The Queen's Gambit is an American series that premiered on Netflix in October 2020. This series is based on The Queen's Gambit novel written in 1983 by Walter Tevis. It follows the life of Beth Harmon, a young chess prodigy. Her extraordinary talent is discovered as a child in a mid-century American orphanage. She struggles with a tough upbringing and constant disapproval of her interest in chess due to sexism. She is told throughout her career that "girls cannot play chess" but this does not discourage her.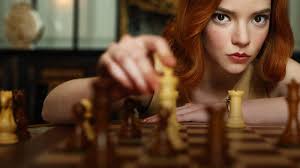 Her love for chess saves her from substance abuse and mental illness. Harmon immerses herself in chess games and lets it completely consume her. She believes it acts as a refuge for trouble minds and escapism from the outside world. Her quest to become the worlds greatest chess player isn't easy but she is determined and talented. She gains the respect of the world-leading chess player as she finally beats him and secures the top spot.
What is the Queen's Gambit move?
The Queen's Gambit is an extremely popular chess move used by professionals all over the world. It is designed to put opponents under pressure from the start of the game. Players use this move to take control of the centreboard immediately from the start. It takes skill and quick thinking. You must sacrifice the white pawn (the 'Gambit' part) which gives up a piece with the objective of gaining tactical positioning and control. And a Queen-side pawn (the 'Queen' part). The motive behind this move is ultimately to exchange a wing pawn for a centre pawn. If you succeed then you will dominate the centreboard with a King pawn. The Queen's Gambit will only work when employed at the start. Usually, only top-level players will use this move with confidence. 
Harmon employs this strategy on a number of occasions throughout the series. In fact, 'The Queen's Gambit' chess move is the move she uses to win the champion title of Worlds Best Chess Player. Played against Vasily Borgov who is the current World Champion. It features highly detailed chess sequences which further highlights Harmon's incredible chess skills. She plays some strong moves throughout and sets the suspenseful game up with a classic Queen's Gambit move. 
How has The Queen's Gambit impacted the rise of Chess?
It is hardly surprising that the popularity of chess has risen dramatically after the release of The Queen's Gambit. This anticipated Netflix series attracted 62 million household viewings. So it has officially become one the most-watched series in Netflix history. This sudden spike in popularity shows in the statistics of online chess players and sales of chessboards. Companies, such as eBay and Amazon, have reported a 60% rise in chessboard sets since October 2020 when the series was released. Chess book sales also rose an astonishing 603% after years of a consistent level. And the #1 chess playing site Chess.com has witnessed an incredibly impressive rise in online players. In fact, it has broken the record for this site. Which are all thanks to The Queen's Gambit.
It appears that everybody wants to find their inner Beth Harmon after watching the series. It sure does teach you a great deal about how to play chess and also discloses different tips and tricks. You will watch the progression of Harmon's skills and strategies that she adopts along her chess playing journey. It encourages the appreciation of science in chess and its history. So it comes as no surprise that the series inspired more people than ever to take chess up as a sport. The chessboard sales, books sales and online players are still continuing to boom in 2021 as more people choose to watch The Queen's Gambit. And we expect this 6th-century board games popularity to continue to rise.